Are you a coach who wants clients to say "yes"
and sign up fast?
Your uniqueness is the key....but you may not fully trust that.
If marketing has become a time/energy drain and isn't getting the results you want, then it's time to make a shift. You know you have to build trust before a client is going to jump in and start paying you. What you may not know is that your uniqueness is the key to earning that trust and saving your energy. You are as unique as a tie-dye shirt. Trust your own uniqueness, then leverage it to attract more prospects and convert them into paying clients faster. You could have a marketing plan that's based on your values and a way to talk about your business that uses YOUR language (not memorized marketing language). I can help with Trust-Building In Marketing for Coaches programs! Are you a new-er coach (1-3 years in business) or have you been around the block a few times and are now moving into the next level of your business?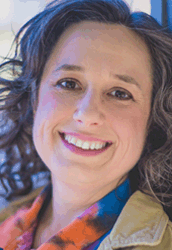 I'm Kristen Beireis,
Trust-Building In Marketing Expert. Learn more about me and how I landed as a Trust-Building In Marketing Expert.

You've worked hard to create the kind of success you have already experienced and you know you want to grow that success. You can feel it like a giant magnet pulling you forward. It's very likely your business is growing, just not fast enough. It's not your fault! Clients are more discerning and demanding than they've ever been, these days. They seek out the best of the best and can smell a 'wannabe' from a mile away.
Even though you know you have what they are looking for, how do you convince them of that? After all you're not just selling them a service, you're selling them a relationship with you.
I'm pretty sure you didn't get into business to do marketing.
Have you noticed all the things you used to know and use for marketing are different today? If you were around several years ago, it all worked perfectly and kept bringing you clients, but it's just not working like it used to. Even if you weren't around, you're having to spend more time marketing, more money to get things done, and I'll bet you're tired of working so hard to make marketing pay off. In fact, it's very likely you've been been listening to what others say you need to do to market your business. In the process, your doing all that work and your energy is drained by the time you get on the phone with a potential client. The bad part? They can feel that and it's a big trust-killer!
So, when did you stop listening to yourself?
Your job is to be the coach. You may have a team helping you. You, at least, have a coach who helps you create the life you want. That's great, but you need to figure out how to amplify your results in business by using your unique way of "being" and "doing" in your business. When does your business become your business? When do you stop relying on other people to tell you what you need to do. It's time to stop running from guru to guru, changing up your philosophies and waiting for someone else to decide what's best for your business. especially if any of the following are true for you.
Do you...
run around like a chicken with your head cut off doing marketing campaign after marketing campaign?
struggle to get the profits you feel you deserve even though you are sacrificing personal and/or family time to get those campaigns out the door?
lose money changing things mid-stream because someone said you had to?
get that sinking feeling after a launch because it just didn't go as planned even though you did everything "right"
lose money every year guru chasing, looking for the magic bullet that's going to make your business take off? Yet, very few if any have paid off?
Every single one of these costs you time, energy and money. Can you afford to keep this going? These are all symptoms of not trusting in your own uniqueness. Instead, you're relying on sources outside of you long after you need them.
People won't trust you until you trust yourself.
My trust-building process starts with establishing a way of working in your marketing, built on your desires, dreams and who you are. If you trust in your uniqueness, then others will trust you too. Once we've built the foundation, then you'll have the space to dig in and find your authentic differentiation. All of this leads into creating a marketing message (answering the question "What do you do?") that quickly creates a sense of trust because it's rooted in who you are as a business owner, human being and professional.
If you've worked with a marketing guru then you've probably experienced getting a blueprint or learning a bunch of strategies and how to make them effective. Then you are left to put it into practice on your own. I could do that, but my clients love how I can peer into who they are, pull it out and help them capitalize on it with workable solutions that drive their marketing efforts forward. You can't get that in a marketing blueprint! And that's exactly why I'm the UN-Guru.
You need a new way of being in your marketing and talking about your business that comes from who you are.
I will help you incorporate trust in your own uniqueness and external trust-building strategies into your marketing. I'll be by your side helping you discover new solutions as you implement, experiment and discover what works best for you. In return you will experience a higher level of confidence in your business, knowing what you put out into the world is in integrity with who you are as a person. You'll also shorten your sales cycle, revitalize your marketing efforts, attract more clients who say, "Yes, that's exactly what I've been looking for," and act fast.
You can build trust through marketing. In fact, you must.
Ready to get started? Choose your path. Are you a Newbie Coach (1-3 years) or a more advanced coach striving to reach the Next Level?


Trust Marketing Expert and President
Coaches' Marketing Source

<!-End Container->