What are the most successful marketing strategies?
How do you successfully talk about what you do?
These are the questions I hear every day. Everyone seems to want to know the answers. Yet, so many are missing out because they keep looking to other people for these answers. Just like so much of coaching is about helping people find the answers within, I believe your marketing has to start in the same place.
Because marketing doesn't have to suck!
What if marketing didn't have to drain your energy?
What if you just instinctually marketed instead of following a marketing to-do list?
What if your next virtual or live event was a true reflection of who you are instead of a spectacle that looks pretty?
What if marketing was something that fed your soul, instead of sucking the joy out of your business?
It's hard to stand in and fully own our uniqueness in marketing when you're following someone else's rules. If you want to market with ease, stand out in a crowded marketplace and/or create a unique event, it's crucial that you stop buying into the way it's "supposed to be done" and discover what works best for you.
It's time to trust in your natural, unique, way of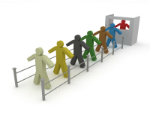 marketing so everything you do in marketing is a reflection of who you are as a coach. Only then will to-do lists be replaced by activities you're passionate about and happen to get clients. Not only that! When you trust in yourself, others will trust you too and line up to work with you.
The first step to marketing your coaching practice with ease is to identify which kind of marketer you are now.
Are you a...
Frazzle Dazzler?
Rock Star Sally?
Or Wondering Wilma?

Find out and discover what will make you a Confident Creator.


Trust Marketing Expert and President
Coaches' Marketing Source


---
<!-End Container->