Which kind of marketer are you?
Frazzle Dazzler?
Rock Star Sally?
Wondering Wilma?
Or are you a Confident Creator?
The first step to marketing your coaching practice with ease is to identify which kind of marketer you are now and what kind of marketer you'd like to become.
Because marketing doesn't have to suck!
What if marketing didn't have to drain your energy?
What if you knew exactly what marketing strategies you needed to hone, instead of guessing?
What if marketing was something that fed your soul, instead of sucking the joy out of your business?
Very few of us stand in and fully own our uniqueness, especially when it comes to our daily marketing activities. If you want to market with ease and stand out in a crowded marketplace, it's crucial that you find a more natural way of marketing your coaching practice.
It's even more crucial that you trust in your natural, unique, way of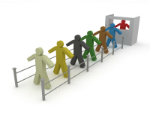 marketing and rely on it to inform your marketing decisions. Only then will marketing to-do lists be replaced by activities you're passionate about and happen to get clients. Not only that! When you trust in yourself, others will trust you too and line up to work with you.
Find out who you're being in your marketing and what shifts you have to make to become the Confident Creator.


Trust Marketing Expert and President
Coaches' Marketing Source


<!-End Container->