Marketing Resources for Coaches
This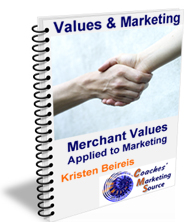 Values & Marketing Report reveals how the values of a Merchant are applied to marketing. If you haven't taken he free version Of the CVI Values Assessment, it is included. If you land in the Merchant category, this report is for you. Explanations, tips and a few helpful actions are shared in this informative report for non-detail oriented marketers with Love and Truth as their top values.


The Marketing Inventory is an e-workbook designed to help you get your thoughts in order around marketing. It will help you list out what's working, where your money is going, who is helping you etc... This is a great resource if you want to be organized about what you are DOing in marketing. It's also a great resource to hand to a VA or someone helping you get your marketing done.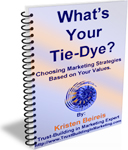 The What's Your Tie-Dye? e-workbook walks you through the process of finding marketing strategies the match your values and what you want for your business. This is a great resource if you just want to quickly get a new perspective on marketing. It's a great foundation for choosing your marketing strategies. It's also the first step to trusting yourself, so others will trust you.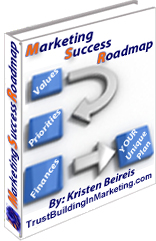 The Marketing Success Roadmap is for you if you've been doing some marketing and already know what your top values are. This workbook will help you figure out what your marketing plan is. There are re-useable worksheets & documents to help you review where you stand in marketing every year. It's a quick start guide that helps you get an overview of what you are going to do in marketing.
This workbook includes The Marketing Inventory and the What's Your Tie-Dye? workbooks. It also includes your budget and funnel, making up a full marketing plan that you can easily follow.


The Trust Marketing Manifesto was the first freebie I wrote about trust in marketing. It explores the four pillars of trust that are at the core of all the work I do. NO SIGN-UP REQUIRED.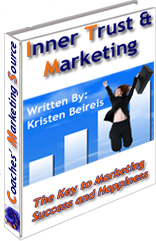 The Inner Trust and Marketing e-book is designed to help you discover where you could trust in yourself more when it comes to marketing.

You will find a large collection of articles on marketing, trust-building (inside and out), running a coaching business, and building a team in the Coaches' Marketing Source archives. These articles were sent to my list. If you'd like to sign up for my list, you can do so at the top right of this page.
Disclaimer: I specifically develop relationships with anyone listed below. All the resources included have been reviewed by myself, either in talking to the person who created it or personally sampling the product or service. Sometimes I use affiliate links in my recommendations. This means I may get some form of compensation, should you choose to buy from those I recommend. Please know that my intention is to only recommend resources I know will help you in your business. Take into consideration how much each recommendation applies to you, personally. The final decision is always up to you.
Happy In Business - Therese Skelly is a Business Coach who will help you re-design your business into something you love. If you're wondering whether your business is really serving you anymore, then hire Therese. She'll help you uncover the parts of your business that need to be reworked, then help you discover where you really, truly want to go next. Therese coached me through my own major business renovation when I had no idea what I wanted to do with it. She was amazing!
Blog Writing Support - Linda Dessau will help you populate your blog and/or master the art of writing your own content for your business. Need a ghostwriter or someone to take what's in your head and put it into articles? Linda does that too!
Custom Training Design - Paul Plamondon will help you put together your training programs in a way that supports who you are. No step-by-step approach here. He'll help you find your own process and how you truly want to be with your training program(s). He's also big on interactivity and making sure you incorporate that into your program(s). Paul is a highly effective educator who will also coach you through any challenges you run into.
Business Beyond Limits - Wendy Y. Bailey is the diva of manifestation and business growth. If you are want to improve your sales in a way that honors who you are, WendyY can help! She is great with mindset mastery and will challenge you to step up your game in order to reach the next level.
At one point, I managed a team of Professionals who carried out duties for coaches.
Most of these Professionals were valuable members of that team and I highly recommend them. I have personally worked with all of them. Whether they were on my team or not, each recommendation below has been vetted. They are responsive, reliable and will provide you with high quality work.
Kristi Pavlik - Adonai, LLC. Kristi has a virtual business support firm that can handle many aspects of your business as well as your marketing. Kristi has a pile of contractors who have been carefully placed in a position to create the most success for her clients while feeding her contractors passions. Kristi, herself, is a very visionary leader with the ability to see all the many steps and systems that need to happen for any project, launch, change or growth. She especially loves it when her clients come in with a big vision and want someone else to handle the details of making it happen and sustainably creating systems to support that vision for the long-term.
Carrie Miller - The Virtual Project Manager. Carrie was my Project Manager for over 3 years and handled every client with fast customer service. She doesn't believe in making clients wait for responses and makes sure that everything gets done in a reasonable time. She won't tolerate inaccuracies and will take a stand for high-quality customer service. She's more than a Virtual Assistant. She's a Project Manager.
Julie Ensor - Panacea Concepts. Julie is a techie wiz who works in many different areas of marketing technology. She mainly managed my shopping carts and autoresponders for 4-5 years. She knows the amount of work she can handle and will only commit to that. Julie will answer questions and help determine the best course of action when you get stuck. She'll also take responsibility for her role and do what she knows will be best for the client. Julie is an all around Virtual Assistant with a large variety of skills and she manages her own team well too.
WordPress Blogsites - Struggle with all the technology behind running your business? Let Sandra DeFreitas help you make some sense out of it. Sandra will help you overcome technophobia and help you find the technologies that will work for you in your business. Her specialty is helping coaches get Wordpress blogsites up and running.
Coaching Sites That Work! - Kenn Schroder helps coaches who are struggling to attract clients. He helps you use the Web to attract clients, grow passive income, and free up your most valuable asset - your time! .
Co-Thrive - Are you a do-it-yourself'er when it comes to marketing? Are you looking for a place where you can learn technologies, ask questions and get ideas for your next marketing project? Do you want to meet a variety of passionate business owners in different fields to expand your internet marketing knowledge? Then Co-Thrive is for you. This online community is a great place to get help and support for a low fee every month. There are open office hours with the owner Kathy Sipple, who has extensive knowledge in online technologies and strategies (particularly social media). There are educational calls with many other experts as well. If you're into time banking, co-working and worms, you'll find Kathy's style a refreshing new take on Co-thriving.
The Coaching Tools Company - Looking for a brandable Wheel of Life? Need a worksheet and don't want to make it yourself. Chances are that Emma Louise Elsey has already thought it up and created it for you. Many of her materials free and there are some great packages that are well-priced for easy downloads that can be branded by you. Check it out!
Free Marketing Tips for Life Coaches - Steve Mitten's basic tips to get you started with your marketing.
Action Plan Marketing - Robert Middleton has easy to use tools and resources to help you get your marketing plan together and understand the process of selling.
Get Clients Now! - A 28 day program to get your marketing going and start attracting clients.
Ready 2 Go Ezines - Don't want to write your newsletter? Want to do a print and digital newsletter completely hands-off? Claire Communications will do it all for you. Also check out Ready 2 Go Articles.
Get It In Writing - Allison Nazarian is a writer who can keep your voice while adding in the SEO that is necessary to drive traffic to your site. She'll consult with you on the best ways to use your writing and how to use it as a marketing tool.
Customizable Style Guide for Coaches Who Write - Look Smarter, Write Faster and Get Better Results from Your Writing. Attention, coaches: Are you wasting a gold mine of information because you're intimidated by the writing process or worried about writing mistakes?
The Coaching Tools Company - Looking for a brandable Wheel of Life? Need a worksheet and don't want to make it yourself. Chances are that Emma Louise Elsey has already thought it up and created it for you. Many of her materials free and there are some great packages that are well-priced for easy downloads that can be branded by you. Check it out!
AWeber Autoresponder - Automate your e-mails, follow-ups, newsletter etc...
1ShoppingCart - If you want the least expensive all-in-one system that includes, autoresponder, shopping cart and affiliate program, this is your system.
InfusionSoft - If you are outgrowing 1SC or you want something that does everything 1SC does (only better) and includes a contact management system, this is the system for you.
Audio Acrobat - Record your teleclasses in mp3 format. Record an audio greeting for your website and much more! Try it FREE for 30 days.
Free Conference Calling - Get a free conference line where you can record, download your calls, publish a feed and control the call from the internet.

Freshbooks is the best small business invoicing system ever invented! Send invoices directly via e-mail, PDF the invoice or send it via snail mail. However you want your invoice to go, it will. You can even set up recurring invoices. Best of all it plugs into PayPal or your merchant account.
International Coach Federation (ICF)
Peer Resources for Coaches - Directory listing of Coaches.
The Coaches Training Institute (CTI) - Where I went for Coach Training.
---